If 

there's something here you decide y

ou just 

have to

 

have

,

 

we've provided links to the product websites. 

If you click on the link and make a purchase, 

Beasley Media Group may earn a 

commission.

Have

 

an idea for a fun theme for a 

gift idea

 

list you'd like us to create

? D

rop us a line 

at s

hopping@bbgi.com

.
Fidget toys are all the rage with the kids today! This newest trend has taken every age by storm. We've picked the top 9 fidgets as told by the experts, my kids. These fidget toys are not only just for fun but have been proven to be helpful for children with any kind of high stress or anxiety. At first, I didn't understand the obsession, but if it's helpful at relieving stress and keeping them off devices, I'm in.
These glow-in-the-dark monkey noodles are so fun. They come in packs of 12 for easy sharing. 
Get it here.
These were the OG of fidgets and come in so many colors, shapes, and designs…you can't go wrong with any of them.
Grab yours here.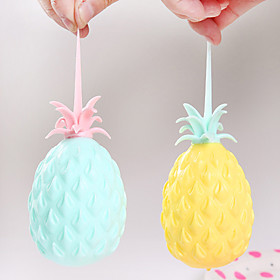 These super cute squishy pineapple stress-relieving balls come in a set of two pastel colors.
Order now from Light In The Box.
Simple Dimples are a two dimple version of a large pop it and are great for on the go!
Buy them now on Amazon.
You can squeeze the marble up and down or back in forth in the sleeve, you can bend it, fold it or squeeze it. These are good for in the classroom!
Grab yours here.

These are great fun and challenging. What better way to spend some time with your friends than a friendly competition? It's always good fun to mix them up and then see who can get the balls back to their original color spots. Fun for friends, siblings, and the whole family.
Order them on Amazon.
As a way to decompress, you can flip and fold this toy, and to help with concentration, it kills time all while giving the endless pleasure of a simple flip and fold.
Grab one of these fidget toys here.
This super fun fidget game will keep your fingers busy for hours! Keep busy with 6 different functions: glide, roll, click, rub, spin and flip, your fingers will never be restless again.
Snag a few here.
It includes a pop it, a DNA ball, marble mesh, bicycle chain, acupressure rings, fidget pad, infinity cube, pea poppers, wacky tracks, and a dimple! All the best fidgets in one set!
Order it here.
Please note that items are in 

stock

 and prices are 

accurate

 at the time we published this list.

 

Have an idea for a fun theme for a gift idea list you'd like us to create?  Drop us a line 

at s

hopping@bbgi.com

.

 
Sign me up for the WJBR email newsletter!
You love Mix 99.5 WJBR, so join the Insiders Club! Be the first to know about our awesome ticket giveaways, the latest updates with your favorite artists, and more delivered right to your inbox.
By clicking "Subscribe" I agree to the website's terms of Service and Privacy Policy. I understand I can unsubscribe at any time.