This listicle is full of lots of cool ideas and items to celebrate your administration professionals at work. If there's something here you decide you just 

have to

 have, we've provided links to the product websites.  If you click on the link and make a purchase, Beasley Media Group may earn a commission.  Have an idea for a fun theme for a gift idea list you'd like us to create?  Drop us a line at shopping@bbgi.com.
On April 21st, we take time to celebrate the talented and dedicated administrative professionals who day in and out make businesses in our community successful.  If you're looking for a fun and unique gift idea to let the administrative pro in your life how much they are appreciated, we've got you covered.
From sweet treats to a box full of sass, the perfect way to say "Thank You" this Administrative Professionals Day could be just a click away.
This cute little planter is the perfect size for a desk.  With its minimal design, it would fit lovely into a modern work or living space.  The pot is white ceramic with a speckled print with a stand that is made of black metal wire.  As a bonus, you can tilt the pot at different angles in the stand.  Get it now at Umbra.com.
If you're looking for a gift option that speaks to someone who loves snark, sass and sarcasm, you'll definitely want to check out the Smartass & Sass.  While they sell a variety of individual items on their site, you'll want to check out the monthly subscription box.  Each box includes 5-7 hand-picked items.  April theme is "Squad Goals."  Get it now at SmartassandSass.com.
Really, who doesn't love a delightful candle?  This gift set from artisans at Brooklyn Candle Studio is a nice Thank You gift option.  The Minimalist candle is available in over 10 scents and it will come with a set of pink foil-pressed long matches.  Made with 100% soy wax for an eco-friendly clean burn, the candles are vegan, cruelty-free, phthalate-free, and petroleum-free.  Best of all the burn time is up to 50 hours.  Get it now at Brooklyn Candle Studio.
This gift idea could be a great way to say "Thanks" to the admin pro who loves to cook.  Wozz! Gourmet Vinegar & Dressings are fruit-based acid vinegars.  Handcrafted in New Hampshire, the six flavor offerings include Grapefruit Juniper & Honey Vinegar, Pear & Ginger Finishing Vinegar, and Balsamic Blueberries & Maple Vinegar.  Even better, they are additive-free, oil-free, and gluten-free.  Get them now at WestonTable.com.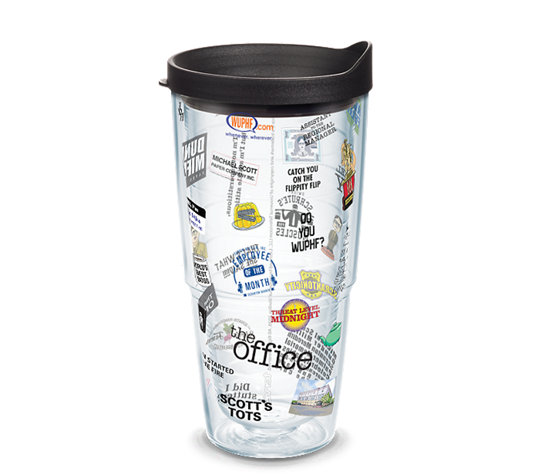 How better to celebrate a co-worker than with an Office theme tumbler!  Tervis tumblers feature double-wall insulated construction that keeps drinks hot or cold longer and reduces condensation.  This one, The Office Smorgasbord, could be a great idea for the Jim, Pam, Michael and Dwight in your office.
I scream, you scream, we'd all scream with joy to get ice cream as I gift.  From the ice cream artists at eCreamery in Omaha this set of four pints of delicious handcrafted ice cream flavors is made in a small batch process and hand packed.  Flavors include Chocolate Ice Cream with Chocolate Chunks, Cookies & Cream Ice Cream, Sea Salt Caramel Ice Cream, and Mint Chip Ice Cream.  Get it now at eCreamery.com.
If your co-worker LOVES flowers, a 3-month subscription of Farm Fresh Flowers from Enjoy Flowers is something to check out.  You can customize your subscriptions to arrive once or twice monthly and deliver beautiful, hand-tied bouquets of 20, 30 or 40 stems. Sign up now at Enjoy Flowers.
This cheerful and sentimental desk accessory is a nice reminder of how much you appreciate your co-worker.  It's a great way to display important photos and create additional lighting at a desk.  The magic of the frame is in a strip of LED lights at the frame's base that illuminates the edges of this glass frame, creating a halo effect.  Get it now at UMBRA.
Our administrative professionals are some of the most talented and hardworking individuals we know. Take the time this Administrative Professionals Day to show them that you care with one of these thoughtful gifts.
Please note that items are in stock and prices are accurate at the time we published this list. Have an idea for a fun theme for a gift idea list you'd like us to create?  Drop us a line at shopping@bbgi.com.