A year ago today, America woke up to the horrific news that 49 people were fatally shot and 53 injured when a gunman opened fire at the Pulse nightclub in Orlando, Florida.

Hundreds are gathering today at the popular gay club to mark the anniversary of this tragic incident that is considered one of the deadliest mass shootings in modern U.S. history. According to WSOC, church bells rang throughout Orlando 49 times at noontime.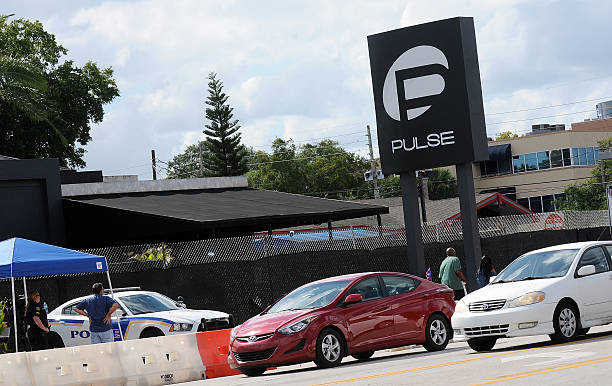 (Photo by Gerardo Mora/Getty Images)
Others have taken to Twitter to remember the beautiful souls whose lives were cut short. They're using the hashtags #OrlandoUnitedDay and #PulseNightClub to express their sorrow and stand in solidarity.
For so many, it was a night of terror that will never be forgotten. Little did the victims know they'd be facing the unthinkable. Our thoughts are with the survivors, the victims, and their families.
So what's next for Pulse? In November of last year, city officials announced plans to turn the nightclub into a memorial, according to a New York Times report. However, this idea is still in talks. The site has been left empty and boarded up since the massacre for people to come and go to pay their respects. There is little certainty about the fate of Pulse and whether the nightclub will reopen elsewhere.
Sarah Francis is a half-Palestinian journalism junkie, a proud Charlotte, NC native with an oversized sweet tooth, and an active world traveler. Ask her where she's headed next. (@Sarah_Francis25)